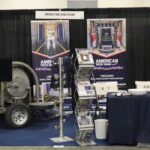 IFDA 2023, Fort Worth, TX
October 11, 2023
Impact of Food Distribution Network
Most people have heard that the average distance your groceries move before you have them in your kitchen is approximately 1200 miles. Less if you live in the farm belts across our great nation; more if you live in Alaska or some remote place like that. Montana is probably on the high side of the range – especially in winter.
However, the article found in a recent the IFDA bulletin is full of rather interesting data.
It seems the food distribution business is an enormous business moving and delivering all those myriads of products us 340 million Americans find in the local grocery store and on restaurant menus. Check this out:
It is estimated there are 17,100 foodservice distribution centers in the US.

They employ approximately 431,000 people.

They have a fleet of 168,300 power units, trailers, trucks and non-CDL vehicles.

The fleets travel over 4.2 billion miles each year, driven by 135,000 personnel.

This network distributes an estimated 12 billion cases of food products each year – that's 33 million a day!

Direct sales are approximately $382 billion/year.

Foodservice distributors donate 7.5 million cases of food and beverage products annually valued at $331 million.
All of this to make sure when you show up at your local grocery store, they have the items on your shopping list.
Let that sink in for a moment.
That is a massive economic footprint.
Plus, life without food distributors would be significantly different than it is today. And my guess is not so convenient.
Finally, if all those trucks and trailers are out on the road each day, most of them need to be cleaned somewhere along the way. And that is why ATW is in business – to supply the best truck wash systems available so that you can have confidence that the truck hauling your groceries is clean – both inside and out.
COMPANIES THAT TRUST THEIR FLEETS TO AMERICAN TRUCK WASH