WHY UNDERCARRIAGE WASHES ARE NECESSARY
Download your free copy today!
The Valor blow drying system adds that finishing touch to your wash system. With 3 different fan power ratings available, the Valor can be dialed in to fit your fleet needs. With options for mounting inside or outside the wash bay, a Valor system blows excess water from trucks & trailers as they exit. This process reduces streaking and in cold climates, will help to prevent freezing of doors, windows, etc.
Based on a stanchion fabricated from heavy 4-inch x 4-inch structural 304 stainless-steel, the Baldor motors power high efficiency fans that are strategically placed to cover every inch of the sides and top of the truck. If your fleet consists of vans or other smaller delivery vehicles, the number of fans can be modified to reduce capital cost while still providing adequate drying coverage.
Fan housings are made of corrosion proof plastic and are available in many colors. The "elephant truck" flexible side nozzles are also available in many colors and come as standard equipment on all systems.
Call ATW today to add a Valor system to your existing wash bay, or to explore how a total truck wash and drying system can work for you.
ADVANTAGES:
Reduces streaking on wash exit
Removes excess water from trailer tops
Reduces the likelihood of freezing in cold climates
Reduces water carryout
Reduces manpower
No more piles of cloths
OPTIONS:
7.5hp, 10hp and 15hp blower motor sizes available.
Can arrange blowers in any number or configuration
Blower housings are available in a variety of color choices.
Can be programed to run/not run with wash selection
Manual or auto start options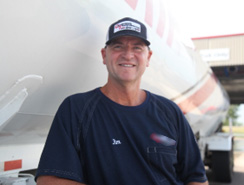 "They always do a good job here.  The truck is super white - I like it!"
Jim in Wisconsin
COMPANIES THAT TRUST THEIR FLEETS TO AMERICAN TRUCK WASH